There is nothing like a delicious hot breakfast. During the school year, I am lucky enough that I don't have to worry about my kids eating breakfast because they eat at school. Then summer rolls around and I realize that I either have to get up earlier in order to make breakfast for the three little darlings, or I have to make sure we pack a breakfast to take along to daycare. Some mornings it's option one, but most mornings we end up taking breakfast along with us. In an attempt to find an easier solution I stumbled upon this recipe for baked French toast that was easy, tasty, and didn't cause too much disruption to my morning sleep.
Baked French toast in my opinion is very much like bread pudding. This one is layered with apples and lots of cinnamon sugar creating a decadent hot breakfast, which everyone in the family loves. The little pieces of apple stayed a little bit firm adding some crunch to the moist, fluffy French bread that soaked up all that egg and cream overnight and then the top got a nice brown crust. Delicious!
I linked this recipe up to This Week's Cravings over at Mom's Crazy Cooking!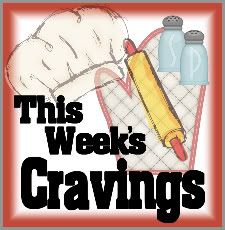 Apple & Spice Baked French Toast
Recipe Source: Adapted slightly from
CDKitchen.com
**Cooks Note: I cut this recipe in half for my family and it worked beautifully
1 large loaf French or Italian bread
8 large eggs
2 cups milk
1 1/2 cups cream
1 cup sugar
1 tablespoon vanilla
3 teaspoons cinnamon
1 teaspoon nutmeg
6 apples, (Cortland, MacIntosh, or Granny Smith)
2 tablespoons butter
Slice bread into 1-1/2 inch slices. Spray 9 X 13 inch glass pan with corn oil or non-stick spray. Place bread in glass dish, placing tightly together.
In separate bowl, beat together eggs, 1/2 cup sugar, milk, and vanilla (by hand, with whisk, for about 1 minute). Pour one-half of egg-milk mixture over bread.
Peel, core and slice apples. Place sliced apples on top of bread to cover. Pour balance of egg-milk mixture evenly over apples.
Mix remaining 1/2 cup sugar with cinnamon and nutmeg and sprinkle evenly over top of apples. Dot with butter. Cover and refrigerate overnight.
Next day, preheat oven to 350 degrees F. Uncover dish and bake in oven 1 hour. It will rise high and brown nicely. Remove from oven and allow to rest for 5 to 10 minutes before serving.
Cut into squares and serve warm with maple syrup. Top with whipped cream and garnish with a sprig of fresh mint.
Total Cost $2.65
for half the recipe or $5.30 for a full recipe
French Bread $.50 (I used half a loaf from our spaghetti dinner)
Eggs .28
Milk .26
Cream .50
Vanilla Free
Cinnamon .01
Sugar .10
Butter .10
Apples .90