The theme this month for the Crazy Cooking Challenge (check out all the great links below!) is chocolate chip cookies. I'm so glad because it forced me to try a new recipe, it has changed my view of my old cookie recipe. After I tried these cookies from Megan over at WhatMegan's Making, I discovered that I had been settling in the Chocolate Chip Cookie Recipe department.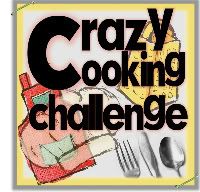 These cookies aren't skimpy on the chocolate, oh no! They are loaded with chocolate pieces nestled into a fabulous cookie batter and then topped with coarse sea salt. The ingredients come together perfectly creating a rich and decadent cookie. Truly, I would call them the Ultimate, the Best, the Awesomest, the Tastiest, which ever adjective you like, to describe them. I made a double batch for my son's game and every crumb was gobbled up before I could blink.
Please, please, please go make a batch of these cookies they are my new favorite!! ENJOY!
P.S. Don't forget to check out all the other great recipes linked up to the Crazy Cooking Challenge below. If you want to vote, mine is number 69.
Thick and Chewy Chocolate Chip Cookies
2 cups plus 2 Tbsp all-purpose flour
1/2 tsp baking soda
1/2 tsp salt
1 1/2 sticks unsalted butter, very soft but not melted all the way
1 cup packed light or dark brown sugar
1/2 cup granulated sugar
1 large egg plus 1 egg yolk
2 tsp vanilla extract
1 1/2 cups semisweet chocolate chips or chunks
coarse sea salt (optional)
Adjust the oven racks to the upper and lower middle positions and heat the oven to 325. Line 2 large baking sheets with parchment paper or spray them with nonstick cooking spray.
In a medium sized bowl, whisk together the flour, baking soda and salt and set aside. Using an electric mixer, beat the butter and sugars until thoroughly blended. Beat in the egg, yolk, and vanilla until combined. Add the dry ingredients and beat at low speed just until incorporated. Stir in the chocolate.
Roll about 1/4 cup of dough into a ball. Hold the dough ball with the fingertips of both hands and pull into 2 equal halves. Rotate the halves 90 degrees and, with jagged surfaces facing up, join the halves together at their base, again forming a single ball, being careful not to smooth the dough's uneven surface. This will give the cookies a bakery-like appearance. Place the the formed dough balls on the prepared baking sheets, jagged surface up, spacing them 2 1/2 inches apart. Sprinkle with sea salt if desired.
Bake until the cookies are light golden brown and the outer edges start to harden, yet the centers are still soft and puffy, 15-18 minutes. Rotate the baking sheets front to back and top to bottom halfway through the baking time. Cool the cookies on the sheets to retain their chewy texture.